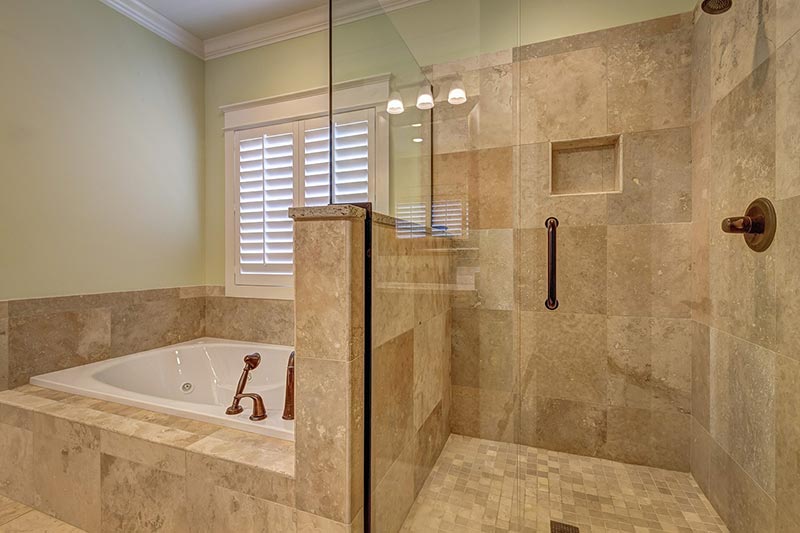 A bathroom remodel can add value to your Kansas City home, but it also has the potential to be a huge headache. Why? There are many opportunities for missteps.
"Bathrooms are often the hardest spaces to remodel effectively, because they require some expertise, and often play second fiddle to other key areas like living rooms and bedrooms," says John Linden, a Los Angeles–based interior and furniture designer.
1. Forgetting ventilation
While focusing on your sleek, new programmable shower, don't forget about the bathroom's less glamorous needs—like how fresh air will enter the room.
"The biggest mistake is underestimating the needed ventilation," says Heather Carbone, a real estate agent in Boston. "The bathroom is the dampest room in the house and can be a breeding ground for mold."
"The classic 'bad bathroom remodel' story centers on a poorly ventilated bathroom," Linden says.
In addition to mold, insufficient aeration could lead to mildew or persistent odors, he explains. So it's important to include an exhaust fan in the plans and budget accordingly.
"Buying discount lighting, tile, and glass is not disastrous, but buying a discount fan is, so always pay for quality when it comes to your exhaust fan," says Linden.
2. Taking out the bathtub
Unless you're absolutely, positively sure that this is your forever home in Kansas City, and you'll never sell it, you should always include a bathtub or shower in the remodeling plans.
"The trend in bathroom renovation is ripping out the tubs and replacing them with walk-in showers, but keep in mind that this could potentially limit prospective tenants or home buyers," says Howard Margolis, a real estate agent at Douglas Elliman Real Estate in New York.
3. Installing the tiling yourself
You want water to flow freely in your shower, sink, tub, and toilet—but you don't want water seeping into your floor and walls. A subpar DIY tiling job could lead to major leakage.
"Some homeowners try to install a tile shower themselves or have an unqualified contractor do the job to save money," says Nathan Outlaw, president at Onvico, a general contracting and design-build company in Thomasville, GA.
If installed incorrectly, Outlaw says the shower can start to leak and could cause problems, including structural damage.
4. Overlooking smart storage solutions
Storage and shelving are sometimes overlooked in favor of trendy design choices.
Alex Lavrenov of Warburg Realty in New York says lately people will opt for a mirror above the sink instead of a practical medicine cabinet.
"I see this all the time, and quite often buyers are turned off by the fact that the mirror takes up a lot of wall space and offers no additional storage," he says.
A pedestal sink is another stylish option, but a vanity sink with cabinets will be better for keeping all your bathroom clutter hidden.
"The extra storage space provided by more countertop and cabinets with drawers will be more useful," says Outlaw.
5. Gravitating toward marble flooring
Yes, marble is a luxurious choice for any surface in your home. But in the bathroom, it might not be the smartest choice for flooring. Aside from high costs, it's cold, slippery, and tough to maintain.
"The porous nature of marble makes it highly susceptible to stains and damage from beauty products, especially when marble surfaces aren't regularly sealed," says Massimo Ballucchi, director of marketing for Cosentino.
He recommends more durable alternatives such as Silestone and Dekton.
"Manufacturing technology has advanced greatly in recent years, making it hard to tell the difference between natural stone and manmade materials that require zero maintenance and are highly stain-resistant," he says.
6. Disregarding electrical outlets
Don't forget to add enough electrical outlets to plug all those grooming tools in!
"It's important for homeowners to have ample outlets in their bathroom to accommodate electric toothbrushes, hair dryers, electric razors, curling irons, night lights, and more," says Bill Timmons at Legrand, a commercial and industrial equipment supplier in West Hartford, CT.
However, a big outlet with multiple sockets or a bulky power strip is not visually appealing, so Timmons recommends installing a pop-out outlet.
"It pops out of the wall in a cube with up to three outlets, and can be popped back in for a smooth surface," he says.
7. Forgetting about door clearance
We've all seen online pics of disastrous bathroom renovation fails in which the door opens only partially, or it slams into the sink or the toilet. Avoid this major mistake by choosing a door that you are certain will fit the available space.
"For smaller bathrooms, consider choosing a design with sliding doors, round doors, or bifold doors that open inward to save space," says Mike Shanahan of Glass Doctor in Austin, TX. "For larger bathrooms, consider either hinged doors or pivot doors."
8. Not having a safety net
Failing to plan for any costly surprises is perhaps the biggest bathroom remodeling mistake of all.
"It isn't uncommon to find water damage in a bathroom from something leaking or installed incorrectly," Outlaw says. "Homeowners should make sure to have some wiggle room in their budgets for the unexpected."
Questions? Contact Prairie View Mortgage Today!