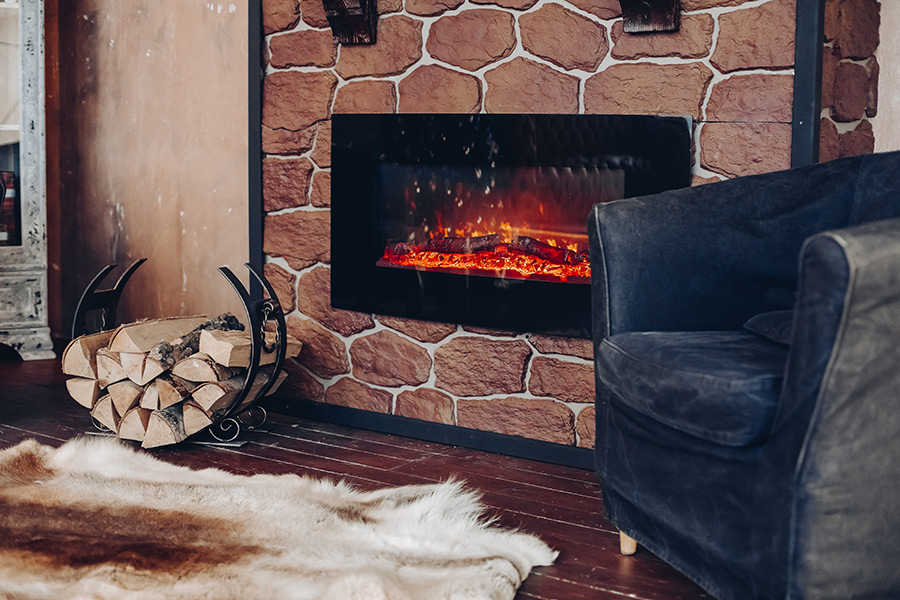 Many people love the cozy and soothing ambiance that fireplaces provide, whether it's the crackling sound of burning wood or the mesmerizing flicker of flames.
Traditional wood-burning fireplaces are common in older homes, but new construction houses often have gas or electric fireplaces instead, since they are less costly, easier to install, and require less maintenance. It's not uncommon for homeowners to convert wood-burning fireplaces into gas or electric fireplaces. These changes can increase the value of a house and make it more appealing to buyers. Be sure to consult with a professional when deciding whether to install a gas fireplace or electric fireplace.
Gas Fireplace
There is a reputation for gas-burning fireplaces as being cleaner and more convenient than traditional wood-burning fireplaces, in which homeowners have to collect and chop wood, handle ash and soot removal, and deal with creosote buildup safety issues. Heat fills a room instantly after a single push of a button with a gas-burning fireplace.
There are three types of gas fireplaces: vented, ventless, and insert. There is a gas line or propane supply required for all types of gas fireplaces. In addition to providing adequate heat, vented gas fireplaces also offer aesthetics beyond heat. Finally, natural gas fireplace inserts come in a wide range of sizes and styles and can come with features such as thermostats and remote controls. Secondly, ventless gas fireplaces are attractive and provide adequate heat, but can trigger allergies and asthma symptoms.
Electric Fireplace
A modern and decorative indoor electric fireplace is a heating appliance that uses electricity to generate heat and can be used in almost any room. Electric indoor fireplaces offer a warm and welcoming atmosphere. Depending on their size and style, they can be mounted on the wall, recessed into the wall, or even built into furniture. Although they do not use actual fire, they produce a realistic flame and often have features such as adjustable heat settings, thermostat controls, and a remote control for ease of operation.
The electric fireplace requires a standard electric outlet to function, but homeowners may need to run a dedicated circuit or a new line. The outlet should be 110v or 220v, depending on the model. The installation of an electric fireplace can be as straightforward as plugging it in, but it may also involve adding an outlet next to the fireplace, cutting out an area for it, wiring the unit, and installing a mantel.
Preference
Many users choose a fireplace based on the flames that mimic a wood-burning fireplace. Gas fireplaces have an actual flame that emits heat, unlike electric fireplaces. While electric fireplaces project images of burning logs and may have sound effects that mimic crackling fires, they tend to appear more artificial. They do, however, have controllable flames and temperatures, which is a good option for those living in warm climates.
In the past, electric fireplaces looked fake, but modern technology has made them look much more realistic. Water vapor and LED lights produce a flame effect that looks like a real fire without the mess, odor, or safety concerns of gas or wood fire features, making electric fireplaces a hot trend.
Questions? Contact Prairie View Mortgage Today!