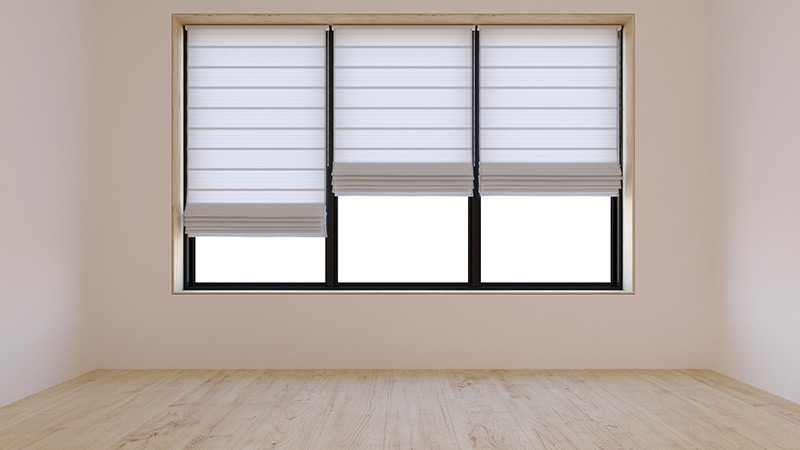 Windows obviously serve their main purpose of allowing light and fresh air into your Kansas City home. Windows can also contribute to the cost of heating and cooling your property. One way to cut down on this expense is to use energy-efficient window treatments, such as:
Cellular Shades
Cellular shades feature hollow cells that trap air, which provides a layer of insulation over the windows. Cellular shades are among the best choices for energy-efficient window treatments for your Kansas City home. These kinds of shades also come in a wide variety of colors and styles to enhance the look of any home. Additionally, they can be paired under drapery for an added layer of insulation. Cellular shades are minimal and versatile in style, but provide the maximum in energy efficiency.
Vertical Blinds
These blinds are an ideal energy-efficient window covering for sliding glass doors. Big glass doors are notoriously energy-inefficient, heating up a house in the summer and letting in the winter chill. Vertical blinds can help alleviate that problem, while at the same time, they're very easy to keep clean. Vertical blinds come in a wide range of materials, including fabric, vinyl and aluminum. They're not only excellent for covering glass doors, but for any large expanse of glass.
Roman Shades
Made of thick insulating cloth, Roman shades are a great choice for any home. The vast array of fabrics, colors and designs makes this choice highly functional and versatile. Roman shades can fit in with any style—from traditional to modern. You can also add thermal backing for extra energy efficiency.
Roman shades can create a soft, comfortable feeling in your Kansas City home, while actually helping to regulate the temperature in your rooms. For a window covering that is energy-efficient with a classic, stylish and versatile look, consider Roman shades.
Shutters
While they're not as commonly used as they once were, shutters are very energy-efficient. The tightly fitted louvered panels are adjustable, meaning you can adjust the amount of hot or cold air coming from the glass. During the winter, shutters keep the warm air inside, and in the summer, they block out sunlight and hot, humid air.
Besides being energy-efficient, shutters can add to the overall value of your home. Shutters are also a good choice because they permanently add to the style of your Kansas City home, which can increase your curb appeal and property value. Shutters come in a wide range of styles, from traditional shutters with narrow louvers to dramatically wide plantation shutters.
Questions? Contact Prairie View Mortgage Today!