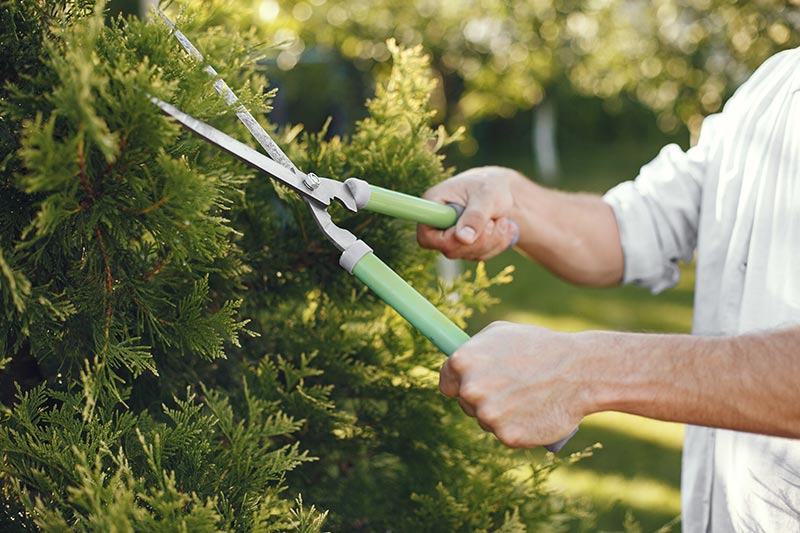 If you recently bought your first home, you're probably feeling pretty overwhelmed by the whole experience. And somewhere in between setting up your house and getting to know all the neighbors, you may have overlooked one thing: the yard—or should we say, the yardwork. Unless your new digs come with landscaping service, chances are you'll have to adapt to your new role as chief gardener—and find the best tools for the job. Here's a list of seven must-buys for the yard that will save you some headaches and a bunch of extra trips to the hardware store.
Garden gloves
Like so many of the items on this list, garden gloves are one of those things you don't think to buy until you need them. As in, once you've gotten your fifth splinter, third blister, and millionth stab from a pine needle. This 'tool' might seem basic, but gardening gloves are absolutely essential if you plan on working in your yard or garden. Gardening gloves will protect you from debris in the soil, sharp tools, stinging insects, and most importantly, infection. Most fertilizers contain animal manure, and consequently bacteria—this bacteria is important for your garden, but can lead to serious infection.
Leaf rake
Whether it's leaves, sticks, or even just pine needles, a good old plastic leaf rake is an indispensable tool when it comes to getting your yard in shape. Not just for leaves, a plastic rake can be useful for cleaning up a variety of yard and garden debris or even spreading mulch. Sticks, dead plants, and even thick layers of pine needles are all things you'll want to be able to manage with your new rake—so be sure to pick something that's both strong and lightweight.
Loppers
It's a funny word, but this gardening tool actually packs a pretty big punch. Much like handheld pruners, but with longer handles, these tools are great for trimming trees and hardy plants up to 2 inches in diameter. Loppers are the advanced version of pruners. When your garden matures, and your crops start swaying uncontrollably, that's when you should get a set of loppers that is designed for thicker branches.
Reciprocating saw
If you have any major yard cleanup to do (like pruning large bushes or cutting saplings or thicker branches), you're going to want one of these. Generally considered safer than a chainsaw, these battery-operated saws are still powerful enough to cut through some pretty sizable stuff (typically up to 12 inches). If your yard needs a lot of pruning, a reciprocating saw is going to make your life a whole lot easier. Not only are reciprocating saws lightweight, powerful, and easy to use, but they're much safer than a chainsaw, especially when you're balancing on a ladder.
Weed whacker
To be successful with some of the smaller jobs on your never-ending list of yardwork, you're definitely going to want one of these. Useful for clearing unwanted ground cover, it's also a great option for people with small yards and limited storage space. A weed whacker is a homeowner's best friend. Maintaining and trimming your lawn is greatly simplified with this amazing tool. Unless you have an enormous yard, purchase a battery-powered weed whacker. Battery-powered weed eaters are lighter, less noisy, and way easier to move around.
Bow rake
Another simple tool, but definitely not one to be overlooked, is the metal bow rake. With shorter prongs and a sturdier build than leaf rakes, this one is a must for anyone looking to plant or sow seeds. Because of its strength, this rake can be used to work the soil in ways that more lightweight versions can't. In addition, it can also handle the occasional rock without snapping. A metal bow or garden rake will come in handy for spreading soil and compost in the garden, or moving heavier debris than leaves or acorns.
Garden bags
After all your pruning and trimming is done, you're going to need something to collect all that extra debris for removal. Enter the garden bags. Not only are these great for removing extra leaves and sticks as you clean up your yard, they're an important tool if you need to do fire mitigation work around your property.
Questions? Contact Prairie View Mortgage Today!