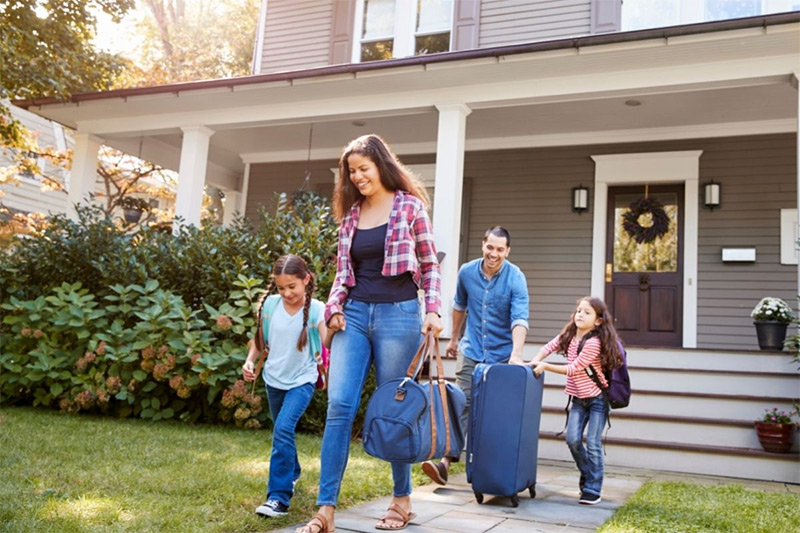 You're all packed and ready for your trip, asked your neighbors to feed your pets, and are about to board the airplane. But before you get that far, make sure to take a few precautions that will protect your home on your vacation. This will put your mind at ease and will ensure that you have the best trip possible. Here are some ways to appropriately secure and maintain your home before your travels.
Interior of your home
Setting timers on interior lights go a long way in deterring burglars, who often look for crimes of opportunity. Don't allow your house to appear as if no one is home. Have someone park their car in your driveway. Position window blinds like normal. Power surges may occur, so be prepared. Disconnect the computer, TV, stereo and other electronics, and plug them safely into a surge protector.
If there's an automatic security system in place, call your representative and inform them that you'll be away from home for an extended period of time. When you leave, make sure the alarm is set properly. Your smartphone has ways of remote monitoring as well. Keeping your jewelry or other valuables in a safe ensures that you don't leave out anything valuable in plain sight. It might seem obvious, but double-check, or even triple-check just to be sure, that you've locked all doors and windows. Smart locks help you control the entry of your home remotely.
Exterior of your home
Before you leave, have your grass freshly cut by a friendly neighbor or local service. Also, trim branches that might be accessible to a climbing burglar. Either have your mail and newspaper deliveries picked up by neighbors, or stop them immediately. You don't want to easily clue in a burglar to your absence by the newspapers piling up on your doorstep. Having some lights on timers help to deter burglars as well.
Collect any hidden spare keys from around the exterior of your home before you leave. Remember, burglars know the best hiding places, like under a fake rock or above a door frame. Even if there is no entrance to your house from the garage, there's still a chance for numerous things to be stolen. Secure the garage door and any entrances to the garage if possible.
Questions? Contact Prairie View Mortgage Today!