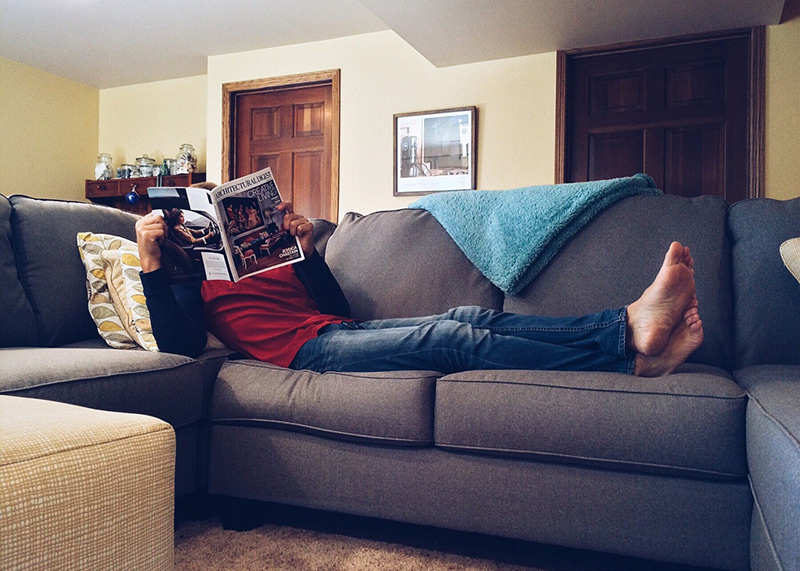 The longer you spend at home, the more likely you're starting to nitpick everything about your space. You know what will help? A home makeover project. Below is a list of easy, but impactful home improvement projects that can increase enjoyment of your space.
Ultimate Spring Cleaning
Past spring cleaning efforts have been valiant—this year, take it to a new level.
Depending on how long it's been since your last cleaning, this project may take some time. Thankfully, time is something we have a lot of right now! There are plenty of ways you can go about a deep cleaning and decluttering project.
Move top to bottom—start with your walls and windows and work your way down, before moving further into your home. Using an all purpose cleaner, wipe down your ceiling (if you can reach), crown molding, walls, cupboards, kitchen appliances and baseboards.
On the way down, give your windows a good cleaning (both inside and out), dusting blinds and shades, and washing anything that's machine washable, like your curtains. And don't forget about wiping down shelves and other built-ins.
Finally, take a vacuum to your vents and suck out any debris or dust that's been gathering there. This is also a good time to change your HVAC filter, if you haven't in a while.
New Furniture Arrangement
When you're getting bored of your space, rearranging furniture is one of the fastest and easiest ways to refresh your home! There are so many creative ways to optimize the furniture in your Kansas City home. You'll have to play around a bit to find out what sort of new arrangement works best in your space.
Here are a few additional rearrangement ideas to get you started and inspire your refresh:
Move decorations and accent pieces to different parts of the home
Organize your books by color or size
Swap out throw pillows and blankets
Switch up artwork
Try using different pieces for different purposes—for example, maybe a side table becomes a plant or lamp stand
If you have paint sitting around, paint a piece of furniture a new color
Minor Repairs
Examine your Kansas City home and make a list of all the repairs that are needed. Even if you work consistently to maintain your space, chances are there are a few outstanding projects you haven't had time to get around to.
This is a great time to tackle those minor projects—particularly the ones that you can do all on your own. Many homeowners have used this time to:
Re-caulk tile
Touch-up paint
Replace lightbulbs
Repair broken fences
Fix squeaky doors
Oil wood cutting boards and kitchen tools
Tighten loose fixtures
Plan for the Future
If you'd like to make bigger upgrades to your Kansas City home in the future, now is an excellent time to start planning! Maybe working with a home remodeler isn't possible for you right now—you can still use this time to make progress on future plans:
Make a list of what you're dreaming about for your home
Talk to your family about what changes and upgrades they dream about
Create a Pinterest or Houzz account to save ideas
Consider how much you'll be able to budget for this project, when the time is right
Research design-build companies and contact them to learn more about their services
You're likely spending a lot more time than usual at your Kansas City home, so you have an excellent pulse on what's working and what needs improvement. Take advantage of this opportunity to dream big and think about what sort of changes will benefit you and your family most.
Questions? Contact Prairie View Mortgage Today!