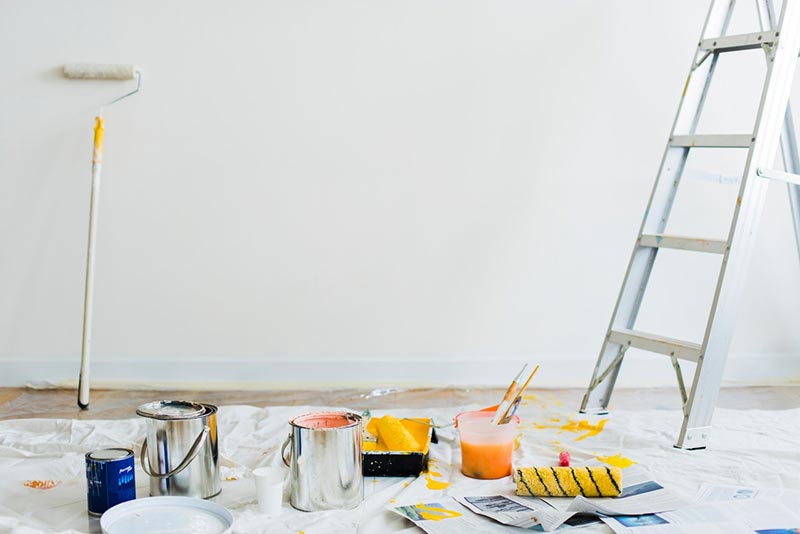 Some projects, like renovating your entire kitchen or turning a closet into a full bathroom, are too ambitious for most beginners. But even if you're a DIY newbie, there are plenty of projects you can tackle without specialized expertise or experience.
Plus, becoming more handy around your Kansas City home is empowering. You'll make mistakes along the way, but figuring out how to correct those mistakes will teach you as much or more as if you'd gotten it right the first time.
Ready to roll up your sleeves and get going? Start with one of the projects below for an easy entry into the world of DIY home renovation.
1. Paint a room or a piece of furniture
You don't need to be an art school grad to paint a room. Beginners will love the fact that painting is an inexpensive, low-risk job that offers instant gratification.
If you're unsure about colors, use a fresh coat of white paint on trim and a bright white on ceilings. For walls, choose any shade that suits your style.
Not ready to commit to that big of a change? Start smaller, by painting a nightstand or an old piece of furniture that could use an update.
2. Replace or refresh your hardware
The best DIY projects for newbies are the ones that make the biggest impact for the least amount of money and effort. Swapping out your cabinet and door hardware fits this bill.
Walk around your home and determine which hardware doesn't match or could use an upgrade.
All you need is a screwdriver and a free afternoon. If you're replacing drawer pulls, don't forget to measure the distance between the screws to make sure your new pulls will fit.
If you want to up the DIY ante and save some money, keep your existing hardware and give it a makeover with spray paint. After removing your hardware, lay it down on an old sheet or on cardboard in a well-ventilated area, preferably outside. A few light coats of spray paint can breathe new life and personality into rusty old knobs and pulls.
3. Touch up trim and caulk
Trim is often overlooked: It brings every room together, but over time, it endures wear and tear—especially baseboards, which attract dirt and dust and get scuffed up.
If your trim is looking worn, you can easily brighten it up by cleaning it with an all-purpose cleaner or a Magic Eraser. For seriously scuffed trim, a fresh coat of paint can work wonders.
Then, check around the house for places where your caulk could use a touch-up.
Caulking is an easy task for DIY beginners, but go slow to avoid mistakes.
It's easy to add more caulk, but once you have too much on the work piece, it can turn into a messy headache.
4. Create a gallery wall
We've all probably hung a framed painting at one point or another. But to graduate from Wall Art 101 to 201, try your hand at assembling a perfectly curated gallery wall. It's an extra challenge, but nothing a newbie can't master.
For this project, you'll need a tape measure, picture hangers, and a level. A gallery wall requires plenty of measuring to determine where each piece should go, and the level will help you hang everything evenly. If you're hanging heavier pieces, use a stud finder to locate the sturdiest part of the wall that can support the most weight—or, in lieu of picture hangers, use drywall anchors and screws.
The good news: A gallery wall is forgiving if you make a few mistakes here and there.
5. Create a home maintenance to-do list
Let's face it: Routine home maintenance doesn't offer the satisfaction of a dramatic before-and-after photo. But it's one of the most important tasks you can learn to handle on your own.
To get started, break up your maintenance to-do list into two columns, for indoors and outdoors. Go for a walk around the exterior of your house and take inventory of what needs attention now and what you'll need to address in the future.
Take note of tree limbs that need trimming, siding on the home in need of repair, and make sure that downspouts and gutters are moving water away from your home.
Then, do the same for the interior.
Create or use an online inspection checklist to remind yourself of routine maintenance, like testing sump pumps and replacing HVAC filters, as well as visual inspections of water line connections to toilets, refrigerators, and washers.
At the end of the day, learning how to handle routine maintenance will give you the insight into identifying issues before they get out of hand, which can save you money and hassle in the long run.
Questions? Contact Prairie View Mortgage Today!