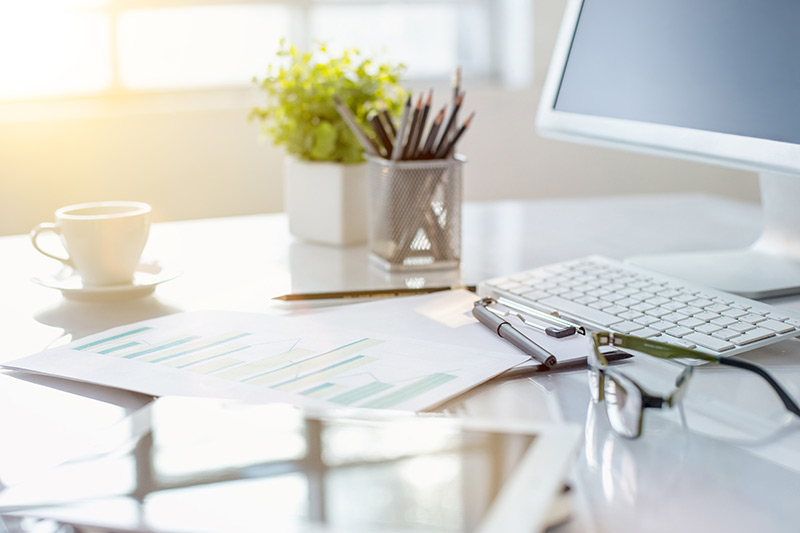 Homeowners across the country have transformed their kitchens and living rooms into temporary workstations. But have they created an optimal setup for remote work? Use these following tips to make a home office more inviting and motivational.
Fresh Paint
Whether you have a designated home office or plan to repurpose a spare bedroom or basement, try a quick and fresh paint job to transform the room. Lighter tones reflect more light, helping to make a home office feel roomier. Try a light, simple color scheme in order to promote high energy and creativity. This will also provide a professional background for video conference calls.
Lighting
Lighting is critical to productivity and professionalism in the age of Zoom calls. There are two ways to control the lighting in a room: through natural light via windows and artificial light, using lamps and bulbs.
If you haven't already, swap out existing lightbulbs for LED bulbs. Relatively inexpensive, LEDs are energy-efficient and help light up a room better than traditional bulbs. Eliminate shadows by adding lamps where needed.
Whether you're trying to focus for an extended period of time or are about to log into a videoconference call, controlling the amount of natural light in the room impacts your productivity. You might find it helpful to rearrange your office based on natural light sources so that your eyes don't get fatigued. Also, control the amount of light in the space by adding blinds, which give you the ability to direct the light in your office. You could also use shades with motorized units to make easier adjustments. Blinds also can have sun sensors that will lower shades if the window gets too hot, helping you to stay focused on your work.
Outside In
A functional and beautiful add-on to your office space, plants have been shown to boost creativity while also creating a calm environment to work—all while filtering the air you breathe.
Personal Touches
We're all spending more time in our home office, so don't forget to add the personal touches that remind you of why you go to work every day. For instance, photos of loved ones or a fun pattern on a floor rug can help you create a space that you're happy to spend time in.
Questions? Contact Prairie View Mortgage Today!