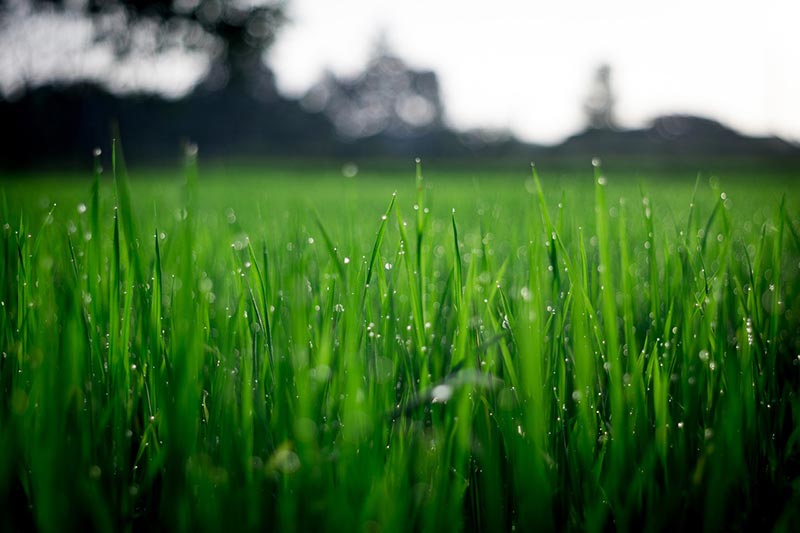 Knowing just how much to water your lawn can get tricky. Water it too little, and you end up with a wilting, faded lawn. Water it too much, and you risk fungal growth from too much moisture and runoff that can unnecessarily boost your water bill.
Watering your lawn is a task that can run in the thousands of dollars or only require a hose and sprinkler attachment, based on how you choose to water or save on water. Some people may choose to install drought-resistant landscaping that can run thousands of dollars. Or you might be on board with manually watering straight out of a hose with a spray attachment. However, it can take no time at all to water your lawn if you choose an automated system or several minutes daily manually.
General Lawn Watering
No matter what time of year it is, lawns have some basic watering requirements:
Generally, lawns need at least about 1 inch to 1 ½ inches of water per week.
That being said, check with a lawn care professional about what type of grass you have if you don't know. Different types of grass can have different watering needs.
If your grass is brown and doesn't respond when you water your lawn, it can be a number of other issues like fungal growth or simply not rotating a pet's bathroom area enough. You may need to consult a lawn care specialist.
A common test to make sure you are watering enough is to stick a flathead screwdriver down into the soil right after watering. If it doesn't easily go down 6 inches, you're not watering enough.
But lawn needs vary between spring and summer, so below we'll cover how to water your lawn between the two seasons.
Spring vs. Summer
The main point that makes watering your lawn in the spring and summer so different is the varying amounts of rainfall. Simply, more rain in the spring means you can get away with watering your lawn less. During spring, or even rainy periods in the summer depending on your local climate, you will have to keep a close eye on your lawn to see whether it needs additional watering from you.
It can help to have either a digital or analog rain gauge to tell you how many inches of rain has fallen recently. That way, you can see if the rainfall has hit that 1 to 1 ½-inch weekly water mark.
There are also several signs that you need to water your lawn more, which you can tell just by looking. The number one sign is that the lawn has a dull green cast, or even a grayish color, to it. Also, while walking on it, your footprints should disappear right away. If not, the grass doesn't have enough moisture to return to its original position.
Saving Water
According to the EPA, if the average-sized lawn is watered for 20 minutes every day for seven days, it can be like running a shower constantly for four days or taking over 800 showers. That's a lot of water. But you can still keep a green lawn and save on water with the following ideas:
Try installing smaller patches of lawn and complementing them with drought-resistant landscaping. That way, you don't have to water your lawn as often.
Always water in the morning before 10 a.m., otherwise the water will evaporate during the heat of the day.
Water slowly and evenly to prevent runoff. You can place containers around your yard while the sprinkler is on. Then make sure each is getting a similar amount of water. You should also water slowly by using sprinklers or a spray attachment on the hose. Water different areas of the lawn in short and multiple bursts to allow the water to absorb.
Never water for so long that you see water running down the street.
Questions? Contact Prairie View Mortgage Today!