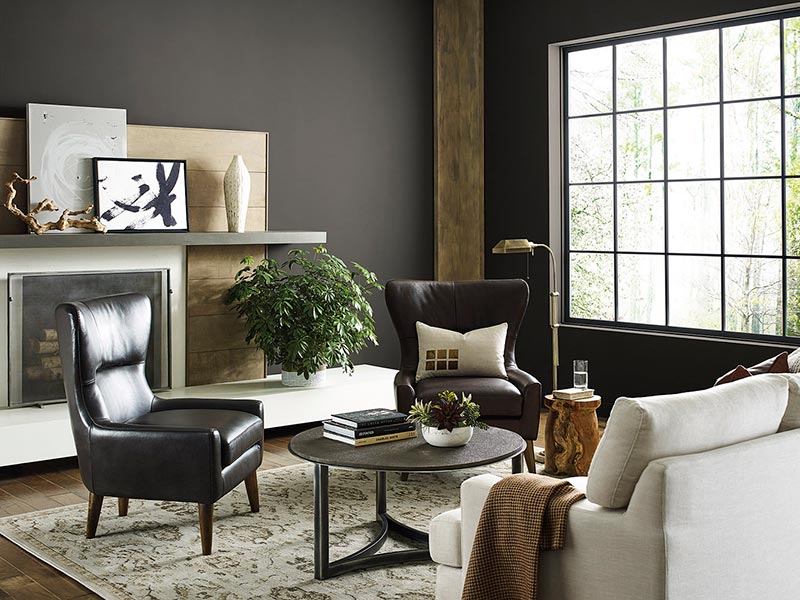 Paint company Sherwin-Williams announced its 2021 color of the year: "urbane bronze." The hue is said to instill calmness and has ties to nature, Sherwin-Williams says.
"The home is now the ultimate retreat from the world, and color is an easy and effective way to create a personal haven," says Sue Wadden, director of color marketing at Sherwin-Williams. "Urbane bronze encourages you to create a sanctuary space for mindful reflection and renewal."
The color trends of 2020 ushered in a return to bolder hues, moving away from the popularity of cooler neutrals that dominated most of the 2010s. Now, Sherwin-Williams describes the 2021 choice as "bold and understated at the same time."
"Urbane bronze is a comforting color, drawing from nature for a feeling of relaxation and serenity," Wadden says. "There's also reassurance in its sentimentality, with nostalgic ties to the design of the '70s and '90s, but with gray undertones that give it a distinctly modern twist."
Urbane bronze can work inside or out in a home, used as a primary or accent color in bedrooms, living rooms, dens, or home offices, Sherwin-Williams says. Wadden also points out it can be used to accentuate window trim, columns, and accent walls in commercial or residential spaces.
"Complement the simplicity of urbane bronze with natural materials—like wood finishes, organic stone accents, or woven textiles—and a variety of mixed metals to create a serene space grounded in nature," Wadden says.
The 2021 selection, Urbane Bronze SW 7048, is the 11th official Color of the Year. The list of previously selected colors includes:
2011: Indigo Batik SW 7602
2012: Argyle SW 6747
2013: Aloe SW 6464
2014: Exclusive Plum SW 6263
2015: Coral Reef SW 6606
2016: Alabaster SW 7008
2017: Poised Taupe SW 6039
2018: Oceanside SW 6496
2019: Cavern Clay SW 7701
2020: Naval SW 6244
Source: Sherwin Williams
Questions? Contact Prairie View Mortgage Today!