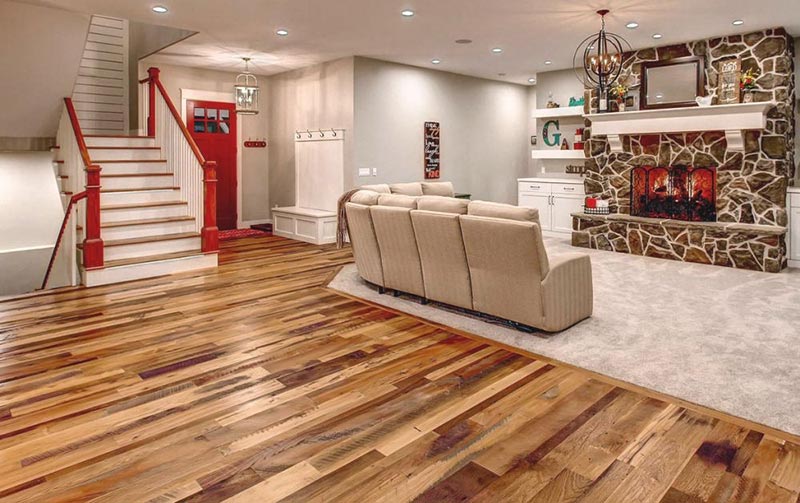 The flooring of a home is one of its defining features. Wood flooring remains one of the most popular options, as it is a naturally inviting, beautiful and timeless material. While older, more traditional homes often have the original hardwood floors still in place, many newer homes are using laminate. It offers a natural look similar to wood but at a lower price.
When deciding between hardwood vs. laminate flooring, there are several pros and cons to consider. Sure, when comparing laminate vs hardwood cost, laminate is usually the more affordable option. But you also must look at durability, resale value, cleaning, installation and more. This article will compare some of the factors between hardwood vs laminate flooring and help you decide which is best for your home.
Laminate vs. hardwood cost
The reality of flooring costs and what you can afford may be miles apart. Take into consideration the cost of laminate and hardwood flooring to determine what is best for you.
Hardwood: CONS – Hardwood flooring is made of harvested trees; pricing depends on the type of wood you choose. In general, hardwood is considerably higher to buy and to install.
Laminate: PROS – Laminate wood flooring is made from composite wood pressed together at high temperatures. The image of hardwood is then placed over the composite wood, covering it to form the laminate. Not only are the materials themselves cheaper, but laminate wood installation cost is, on average, 50 percent less than hardwood installation.
Laminate flooring can cost $3-$7 per square foot, including installation. Solid wood flooring can cost $5-$10 per square foot, including installation. Again, the exact prices will vary depending on the types of materials used and the size of your home.
Assess the traffic load and wear and tear on flooring in your home. A more durable surface is easier to maintain and will look great for years to come.
Hardwood: CONS – Hardwood is susceptible to scratching, can get damaged from excessive moisture and will show wear, especially in heavily trafficked areas. PROS – Hardwood is the real deal; it is gorgeous and, depending on the type of wood, can add considerable value to your home.
Laminate: PROS – Since laminate is made from pressed wood, it is more durable and resists scratches, moisture and wear and tear. Laminate flooring is also easier to clean. CONS – Even though laminate is more durable, it is not as visually appealing. Lower qualities of laminate may have artificial-looking wood grain textures.
Laminate vs. hardwood repair
Your home's flooring will typically need repairs at some point. From minor accidents to excessive wear and tear, laminate and hardwood have advantages and disadvantages.
Hardwood: PROS – Hardwood can be repaired by sanding imperfections and refinishing. This gives it the edge over laminate, in that it will last for years.
Laminate: CONS – Laminate flooring doesn't repair easily. If you buy flooring that comes in individual pieces and snaps together, you may be able to replace individual boards — although, depending on sunlight and age, the new piece may not match properly.
Best places for hardwood vs. laminate flooring
In addition to price, durability and repair, you should also consider the best (and worst) places in the home for both types of flooring.
Hardwood: Hardwood flooring is both beautiful and fairly durable, especially in lower-traffic rooms like bedrooms and dining rooms. But, if you have pets or a lot of foot traffic, your hardwood floors might show the scratches and wear overtime. Basements and bathrooms with a lot of moisture are also not good places for hardwood flooring. On the other hand, continuous sunlight can fade your hardwood flooring overtime as well.
Laminate: Because laminate flooring is so durable, it's less susceptible to wear and tear from pets and foot traffic. While it withstands moisture better than hardwood, it should not be in a regularly wet area of the home. Because of its top coat, laminate flooring typically does not fade from sunlight as quickly and noticeably as hardwood flooring and can be used safely in rooms with large windows.
Your home will benefit from the look of wood flooring; deciding between hardwood vs. laminate flooring is up to you. Review the pros and cons, and be realistic about your lifestyle; if you have pets, young kids or high traffic, that may influence your decision.
If you have a lot of sunlight in your home, hardwood can fade because it is a natural product, while laminate wood flooring has UV protection integrated into the surface. Consider all the factors — and enjoy how the warmth of wood will improve your home's aesthetic appeal and value.
Article from Ronique Gibson
Questions? Contact Prairie View Mortgage Today!